Our salmon is one of only 1% of all salmon.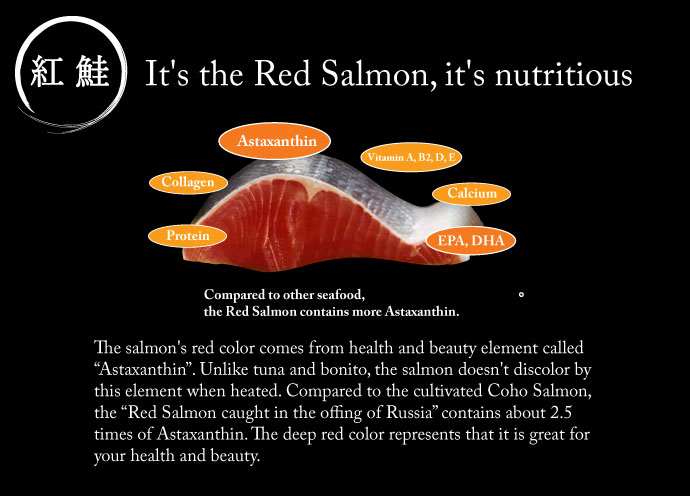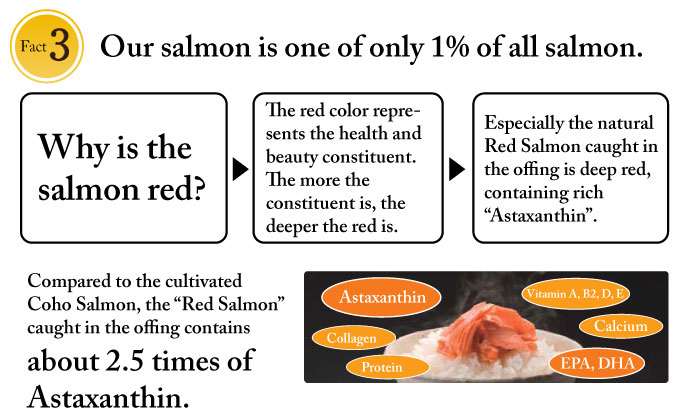 The natural Red Salmon contains Astaxanthin that is well talked about. The salmon is originally a fish with white meat, and the meat turns red by eating the food containing Astaxanthin. Astaxanthin has the anti-oxidation power 1000 times Vitamin E, and there is an effect of eliminating the wastes from the blood vessel, the skin, and the brain. It also has the effect that improves the blotch and wrinkle, so especially the women might want to eat on daily basis. It prevents cataract, arteriosclerosis, dementia, heart disease, and weakening of immunity, so it is proven by numerous experiments to be effective for anti-aging.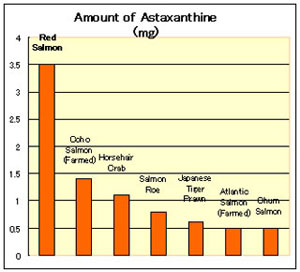 | | |
| --- | --- |
| Red Salmon | 2.5-3.5 |
| Chum Salmon | 0.3-0.5 |
| Coho Salmon (Farmed) | 1.4 |
| Atlantic Salmon (Farmed) | 0.5 |
| Salmon Roe | 0.8 |
| Japanese Tiger Prawn | 0.6 |
| Horsehair Crab | 1.1 |
The Red Salmon contains rich Astaxanthine!
[Trivia of Astaxanthin]
1. Best partners for Astaxanthin
Red Salmon + Tomato, olive oil, chili peppers, salmon roe, buckwheat
2. Within the Red Salmon, the belly part contains more Astaxanthin!
3. It is better to boil and steam the salmon than to grill or deep-fry it, for you can take Astaxanthin 2 times more.